On Saturday
Hillary's
invited me down to Taj's Tea Parlour in Brighton to meet some crafty local bloggers and learn to make some Christmas things courtesy of
Make Do and Trend
who run crafting workshops
The venue was in the deepest, darkest corners of the Lanes, between all the alleys full of gorgeous second hand jewellery, vintage finds and choccy-woccy-doo-dah!
Can you believe these are made of chocolate!?
It was a tiny tea room full of bunting, mismatching vintage tea cups and saucers and lovely looking cakes. A load of bloggers were all packed into the room and we got making.
Picture taken from Sophie of
Sophie Rose Hearts
First up we made no-sew bunting out of one of the Hillary's new fabrics. We were given a length of rope and 5 pendants to stick to it which were opened up.
We were then told to PVA glue one side of the pendant and sandwich it around the rope. I quickly learnt that putting on a lot of glue made the fabric curl up so I didn't get the best result.
However, I did learn that if you have a limited length of rope, what you have to do is stick a pendant to each end, then put one in the exact middle of the length, then you can pop in the remainder evenly on each side of the middle flag.
We were served some delicious tea and tiny Christmas themed sugar cookies halfway through, although my mouth watered over the cake which was tucked away from us! Then we got crafting some more.
The next craft was harder - we used three different fabrics from the Hillary's range to cover a polystyrene bauble.
This involved having 8 squares of each fabric, putting a pin in the exact middle of a square, pinning it to the bauble, then folding it in half and then triangles around the pin (does that make sense?).
We repeated this with 2 more layers on top, and then on the other side of the bauble before wrapping the whole thing in a strip of fabric to hide the edges.
I think the effect has great impact and I'm really proud of the finished product. It was really hard to do though - curtain fabric was far too thick to do the job and it was very challenging to get pins in towards the end when the layers were so thick. I think this would work well with thinner fabrics or even paper.
I had a fab day and I loved meeting some other bloggers! A huge shout out to these guys for being so much fun, each who you should definitely check out
Miranda's Ark
Sophie Rose Hearts
Lilla Loves
Lola and Behold
Jennifer's Little World
Maybush Studio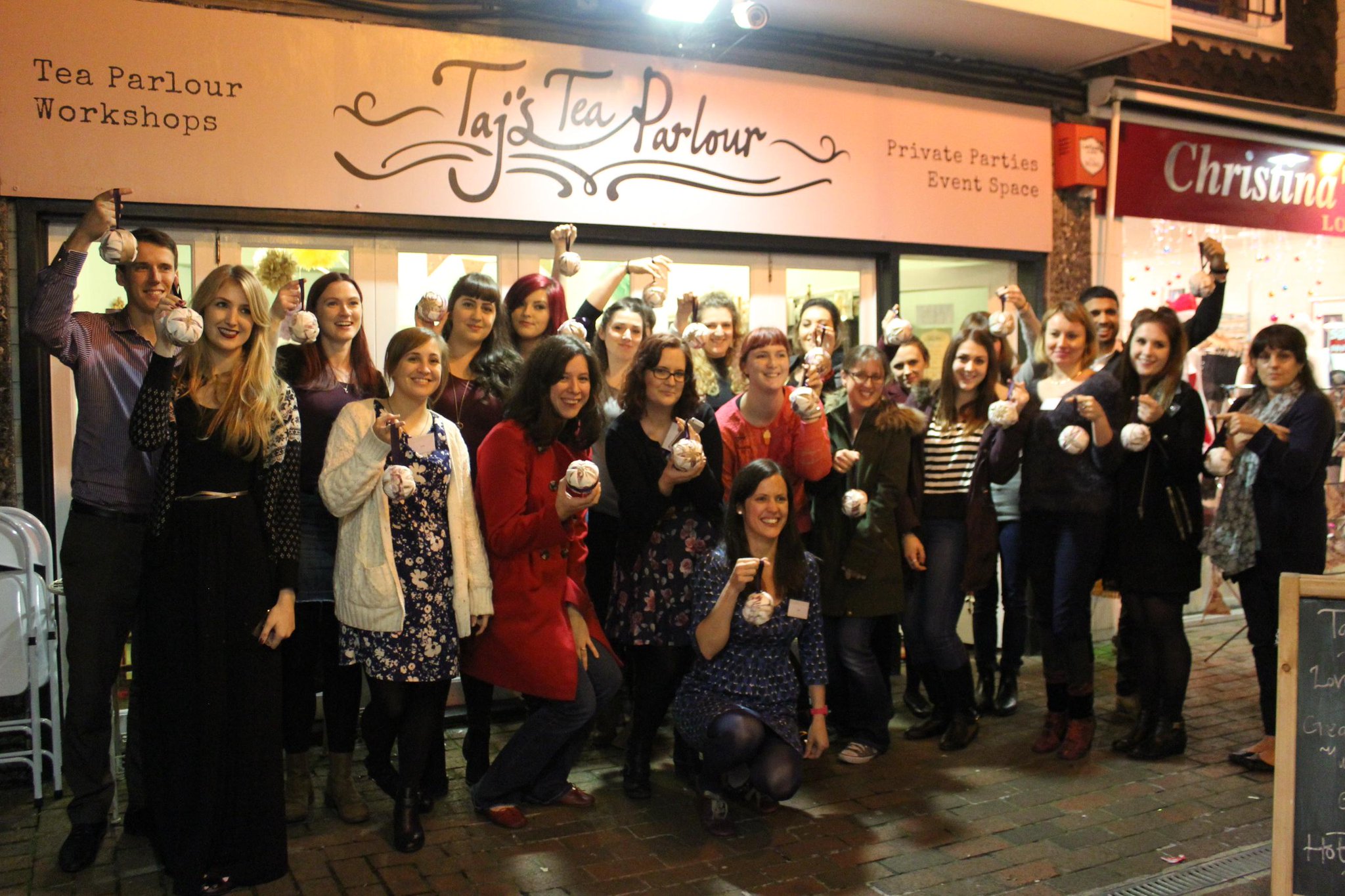 The next day I decorated the house for Christmas and got to put up my creations!