This week it came out that fashion designer Maria Grachvogel's collection, which was shown on Friday morning had problems with the models - they were too thin. Maria Grachvogel is known for making clothes for "real women" (I'm sorry but I HATE the term real women, I'm a real woman and a very healthy size 8-10 and I have friends who are healthily a size 6! real does not always = size 14+! Rant over) and therefore modelling her items on size 10 models, yet this year there weren't enough, and it is said she had to take in many of the items for the models available. This does not surprise me sadly, and it must be really hard for models who are average UK sizes to get into the fashion industry because people "don't want to see a fat person wearing designer clothes" or some other rubbish. However I'd much rather see a "fat" size 10 girl model clothes than the girls seen this week. For example, the picture on the right is of model Martyna Budna, modelling here for Mark Fast. I can't even think of the words to express my sadness at this picture. This poor, young girl is working in the fashion industry and obviously being praised for her figure which is estimated to be around a BMI of under 15.
London Fashion Week is all about aspiration right? We look to the clothes and think "I wish I had that" in the same way that I also sign when the My-Wardrobe newsletter plonks into my email inbox. For many women this also applies to the models - they look to the models and think, "I want to achieve that". I'm not going to go into why women become anorexic because it's a hugely complex tangle of psychological influences and problems, but needless to say, anorexia should not be promoted in fashion but sadly it is. As I said in my
article on airbrushed models
, it is not my place to say that models should be a certain size, they should just be healthy and some girls at LFW were really not.
Other worrying pictures include that of
Chloe Memisevic, the young Swedish model pictured left at the Erdem show who has worryingly prominent bones and very hollow cheeks. This isn't something that most women can achieve without putting themselves at risk of illnesses, bone disorders and early death.
You may be asking why this is an important subject, girls on the catwalks have been underage and underweight since FOREVER, but you have to remember how impressionable this group may be, if you're hearing everyday that you're not thin enough or beautiful enough, no matter how much strength you may have to ignore the pressures of being a model, it's bound to get to you one day right? And think of all the young, fashion loving girls out there, a huge proportion of who will read blogs on fashion week and look to catwalk shows for inspiration which is really great, but some will also gain "thin-spiration" from these pictures and "ideals". As
Giles Deacon
pointed out - the fashion industry can impose some "unrealistic ideals" on women, and it's true - for the majority of us these figures are unrealistic and very unhealthy. In many cases biologically impossible to achieve without some long-term health implications. Take this example from Grachvogel herself:
 "The model industry is international now, and body shapes that a decade ago were unusual in Britain have become standard. Ten years ago, the standard British body shape for a 5ft 10in model was a size 10 with size seven or eight feet. Now there are many, many Eastern European models who are that tall, but with very fine, narrow bone structure. Typically they have size five or six feet. They are built differently."
 So for many of us, these kinds of sizes are biologically impossible and shouldn't be attempted.
I'm shocked that the authorities at London Fashion Week would allow such thin models, as it was being questioned whether this should be legal at one point. You only have to remember the case of the model Isabelle Caro who died in November at the age of 21 who made a very public campaign against eating disorders to see the devastating effects that an eating disorder can have.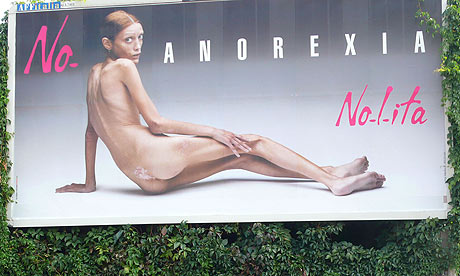 Yes, eating disorders are not due to fashion, they are a hugely complex problem caused by psychological illness, and I know importantly for fashion shows – size 0 women don't have lumps and bumps in places so dresses fit all and the seamstresses don't have to worry about tailoring the clothes to fit those of us who are pearshaped or have bigger boobs etc… because size 0 women don't have these bumps! But for those on the slippery slope to an eating disorder, images of glamorous, successful, beautiful and THIN models are very influential. I don't have an eating disorder myself thankfully, but I have several close friends who have/had one and I've seen the devastation it causes. So come on London Fashion Week, please start thinking of the young women who can't afford your clothes, but aspire to.
For more help, go to the websites of
MIND
or
B-EAT
, if you are suffering from an eating disorder, please go see your doctor. Finally, if you want to support those with eating disorders and live in the Brighton region, go to the
Free Clothes - For Better Mental Health clothes swap event
which you can see here on
Facebook
.
Please all add your opinions, for or against my post. I'd love to hear your points of view x