I've been so excited to tell you this story but I had to wait until after Christmas Day. It's so sweet it will make you say aah!
In late November I recieved an email asking for help to locate the famous River Island panda hoodie for a guy to give his girlfriend for her Christmas present, but sadly it was sold out everywhere... here's his story: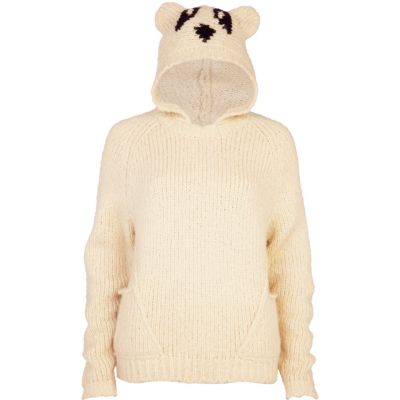 "A couple of months ago, my girlfriend sent me a text/picture message to say that she'd seen River Island's new panda hooded jumper in their window. She really liked it, and thought it looked lovely and snuggly (and she already had the hat, so I knew she loved the design anyway), but she wasn't totally convinced about spending that kind of money on a jumper when she already had a few hooded jumpers.
So, after some hopefully fairly subtle enquiries ("But you like it though?" and "It is quite you, don't you think?"), I managed to do enough to confirm that she did indeed like it, but wasn't going to buy one for herself. At that point, I decided that that was what I would buy her for Christmas -- after all, I've always been of the belief that Christmas presents should always be the kind of things that someone wants, but would never buy for themselves...
Problem was, I then got completely swamped in work and forgot about it... :(
...until my girlfriend and I started talking about Christmas. "Ooooh, Christmas," I thought, "I must get her that jumper as soon as I get paid!"
Pay day came and went, and I started looking on-line at River Island's site. Sold out in almost every size. :( Bugger.
So, rang around my local branches -- sold out, sold out, sold out. Their suggestion was to e-mail customer services -- customer services, when they finally replied, told me to ring customer services.
Rang customer services, they gave me a list of branches in my area (mostly London branches) that each had 1 of the right size in stock. Rang each branch, and it turned out their inventorying system was wrong -- the item had either already been sold or had disappeared from the stock room or the shop floor, never to be seen again.
Panic set in. So I rang customer services, and widened the net -- asked them to find all the branches anywhere in England that had them. Got the list, each branch allegedly having 1 of the appropriate size in stock. Rang them all, all sold out. :(
By this point, I'd completely lost the plot -- I suddenly had NO idea at all what to buy my girlfriend for Christmas, I was completely and totally focussed on the now apparently unobtainable jumper. Another call to customer services -- all the branches in the UK. Suddenly, three branches stuck out as being good bets -- Hereford (just about doable in a day by train -- not sure why it didn't flag up before with the list of England branches) had 2, and both Belfast stores seemingly had them (one had 2, the other had 3).
I rang Hereford first. Another disaster -- the store had recently been completely gutted by fire. Gutted was how I felt at this point, too.
Belfast it is, then. Except getting to Belfast would be completely unfeasible, so the next question was did I know anyone in Belfast to even get hold of them? Who cares, I thought -- I should at least check first that they have them.
I rang the Donegall Place branch - the one that apparently had 3 of the right size. Nope, nothing. None. All gone.
By this point, I wasn't expecting anything of the Belfast Victoria Square branch. After all, nowhere else had them, even branches with allegedly 3 in stock, and besides, it was in Belfast. But still, "if you don't buy a ticket, you can't win the lottery". I rang -- they had one in stock!
...and a policy of not being able to ship it to any other branch, not being able to post it out, and not accepting payment over the phone. If I wanted it, I'd have to go into the branch and collect it. My heart sank. "Stuff it", I thought, and asked them to reserve it anyway. "It's reserved until the end of tomorrow", they said. So, now time was of the essence.
I started dredging the internet for ways to get someone to get hold of it for me from Belfast. I asked on the Facebook threads of a couple of Northern Irish bands I really liked -- appealing to the good nature of their fans and hoping someone would help me out. Nothing. A random google search -- trying to find people who appreciated the wonders of the panda hooded jumper -- offered up Lauren's blog (where you're reading this!). I e-mailed Lauren, not expecting a reply or anything, but instead Lauren tried to work miracles -- asking people to help out on Twitter, begging River Island's PR people to help make a Christmas dream come true...
...but still it came to nothing. :(
Disheartened, I let the item in Belfast go. Then Liz, one of my friends on Facebook, asked me how I was getting on with the hunt for the elusive hooded jumper. I told her about the Belfast one, seemingly the last one in existence. And she said she might have friends in Belfast, she'd see what she could do. I rang River Island Victoria Square back -- they still had it. They reserved it again. And then Ali, Liz's friend, agreed to pick it up - in spite of being a single mum and therefore having the whole worry about being out of pocket. To make sure she wasn't out of pocket, I PayPal'd her the money for the jumper AND for postage AND a little extra to say thank you. She collected it, posted it, and it's now sat in a carrier bag next to me!
Yay! Happy Christmas, Helen - I hope you like your present. :-D"
Isn't that just the sweetest story!? Merry Christmas everyone!